Avalanche and other hazards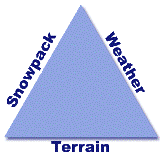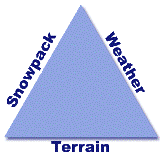 I probably don't need to tell most readers that Avalanche hazard in the Sea to Sky region is Extreme right now (note this link is to the latest bulletin, so if you're reading this a few days late you'll have to try to find it in the archived bulletins).
Of course there are very few observations this early in the season, but it doesn't take a professional avalanche forecaster to realize that when about a meter of snow falls in one 48 hour period (some forecasts called for 1.5m), and is accompanied by high wind, there's going to be some unstable snow. It is quite rare for the hazard to be this high.
Also in effect is the "upside down" nature of the snowpack — this last storm came in cold, and warmed up. In fact, the freezing level rose to 1500m, triggering high streamflow advisories; the combination of rain and melting snow packing a double whammy (where "whammy" is a technical term here).
On the North Shore the hazard isn't quite as high, mostly due to the lower elevations; the North Shore mountains only classify as "treeline" on the avalanche bulletin as there is no true alpine terrain. Also, the rain probably fell all the way to the top of those peaks, and although rain on snow causes instability in the short term, once it freezes it's quite stable.
However, the freezing brings with it another hazard, that of a slip and fall on snow. I've written about this hazard extensively, and it's one that the avalanche bulletin doesn't mention even though more people die in this kind of accident in the North Shore than by avalanches — in fact, almost one person a year dies from a slip or fall on snow in the North Shore.
So I'd like to make an explicit warning in advance of this weekend. There's been a rainfall event that brought rain and wet snow to the peaks of the local mountains. If there's cold weather the rest of this week, keep a look out for a rain crust. Be careful while skiing, boarding or snowshoeing in the backcountry.