Foot in Boot
Anyone living on the south coast is probably aware of the slew of feet that have been washing up on the shores around here. Thankfully, a few have been identified and so far no foul play has been suspected.
However, when a foot shows up in a lake in the middle of your search area, a SAR member starts to wonder if it's someone they searched for. In fact, the Coroner's Service has issued a request for help identifying this one.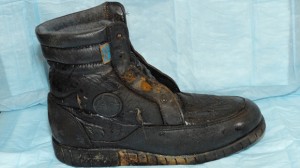 To quote
The boot is a black Cougar-brand hiking boot, men's size 12. It has a blue interior felt lining, and the metal eyelets were significantly rusted, suggesting it could have been in the water for some time
We are usually called to search for missing persons, and Sasamat Lake is in the area that my team is responsible for. Even if animals are responsible for this boot/foot being moved some distance, we're responsible for the entire eastern side of Indian Arm, so whoever this was, came to some grief in our area.
It could be that the boot predates my time on the team, but I can't remember a search in this area where we didn't find anyone. It could also be that the person was never reported missing, or was reported but there was no last known position that would have triggered a search.