The Snapchat search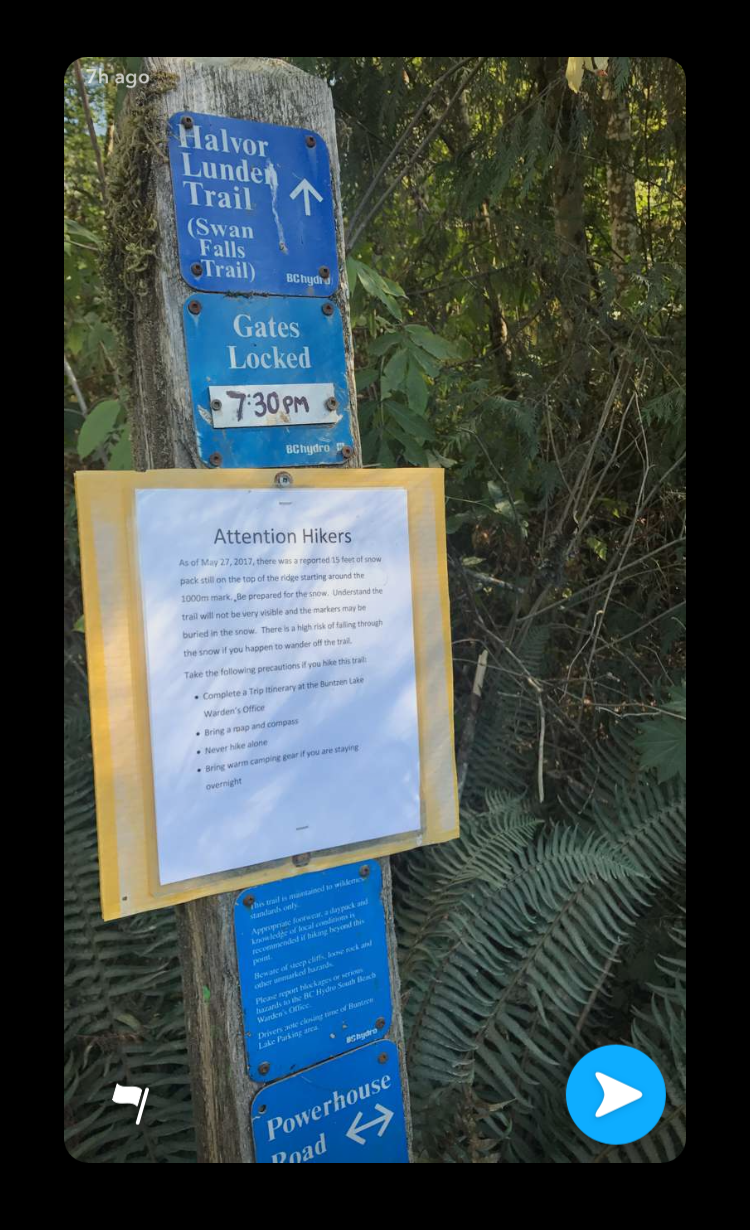 I've posted many times before about the importance of using Social Media in SAR – both from the perspective of communicating to the public about what your team is doing, and for investigating a missing person.
In fact, back in 2014 I published a Social Media Action Plan for SAR to highlight how gathering information on the social media profiles of missing people is now considered an essential part of a SAR task – equal to the missing person information forms.
A recent search by my team illustrates this quite well.
The Task
Three hikers were reported missing by a friend of the family. No names or ages were given, which was very odd, and only some very general information on their location. So general, in fact, that we were faced with a very large search using a lot of resources to cover three different trailheads.
We were also told that although all three had smart phones, none of them had any power left as they had been texting and calling family members.
The team began to muster, and I was given the task of gathering information about the subjects.
A few phone calls later I had the basic details and was filling in a missing person's report. I ended up talking to a friend of one of the hikers and as part of the investigation I asked about their social media accounts. That's when the Snapchat information came up.
Snapchat
One of the main features of Snapchat, an instant messaging mobile application, is that pictures and messages are only available for a short time before being automatically deleted. Based on this profile it would seem that this social media network is the exact opposite of something that could be useful for SAR, but ironically it wasn't.
There's a "Stories" feature for Snapchat where you can post a series of photos that are available for 12-24 hours. On my phone call to the friend of the missing hikers I learned that one of them had been posting these stories, and the friend managed to capture the screens and send them to me.
The first photo of the series clearly showed the trailhead signs with the trail name, which narrowed down the location by a lot. Other photos in the series showed that the trio had made it to the summit of the ridge and had likely gotten lost on the way down. Photos were tagged with geographic information and one contained an elevation. This placed them on a well known trail in our area.
Images above used with permission.
Resolution & Analysis
After relaying the information to the team, the SAR managers put a fairly large team on the trail in question, and found the three hikers soon after. Being prudent, teams were still sent up nearby trails in case the hikers had come down a different way.
The information we gathered via social media did not make the difference between life and death in this case. The hikers were in good condition and had managed to avoid getting off trail and into the steep hazardous terrain nearby. This is not always the case when we respond to this area, and some pretty serious incidents have happened here.
The subjects did not tell anyone where they were going. This is very common with younger hikers who are used to being connected via social media with their friends – most of the time someone knows where they are because they're always sharing that information. That habit breaks down as soon as you leave the pavement.
The other major component of this task was that none of the three had any phone battery life left when we responded. We were unable to call them.
Luckily there was cell service at the trailhead and elsewhere on the route.
Advice to SAR Members
Always investigate. Call parents, and for younger people, call friends. Ask about social media activity. Don't be afraid to dig. Even systems (like Snapchat) designed to hide information can be used to gain locations.
Advice to Hikers
leave a trip plan! Tell someone where you're going!

This speeds up a response.

If you do nothing else, then take a #TrailHeadSelfie

At least we'll know the trail you're on.

Do not use your phone while on the hike

save the phone in case you need to call for help
do not call or text your friends, call 911 and then wait for a call from SAR