How to NOT kill Yourself Snowshoeing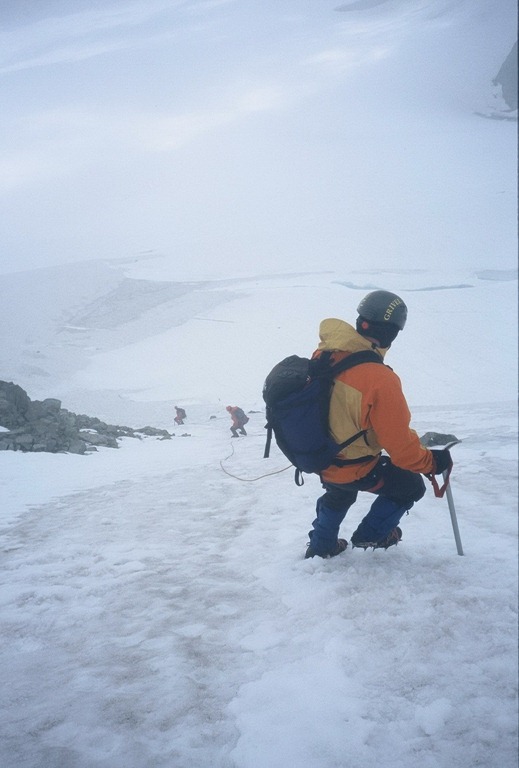 I remember borrowing a pair of crampons for my first ascent of Mount Baker in 1990, and the advice of the lender. "Make sure these thing fit" he said, "because if they come off and you're on the ice you're hooped." A few years later, during a mountaineering course I learned that crampons are tools for getting you into terrain where you definitely require crampons. I never learned what to do if they fall off, so I've always made sure they don't.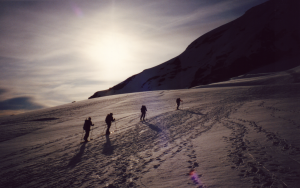 My point is, what do you do when everything goes to shit?
I'm not going to go into the answer for the crampon scenario above, but perhaps I can address the snowshoe situation.
In my last article I detailed a pattern in accidents among snowshoers and winter hikers, but I think I was rather thin on both avoiding the conditions leading to such an accident and what do if, as I said above, everything goes to shit. It's not too helpful for me to sit here in my office and say "well, you really should have had an ice axe with you." For whatever reason, some of you may find yourselves in a desperate situation one night and need a few pointers.
First let me encourage everyone to take winter travel very seriously, do things the right way and take an avalanche course, and understand the limits of the snowshoe as a travel tool. Second, let me encourage you to read my disclaimer and take my advice with a grain of salt. You do NOT want this blog post to be your only source of information, that would be stupid.
If you find yourself needing to cross or descend an icy slope, the first piece of advice is to do so facing the slope. If you were on crampons, this would be called front pointing. Use the cleats (such as they are) on the snowshoes as if they were crampons and step sideways (if traversing), or carefully downhill (if descending), one foot at a time. Make certain each foot hold is very sturdy before transferring your weight to it. This might seem slow and awkward, but facing the slope is the safest way to do this.
Essential to this maneuver is to use your ski pole as if it was an ice axe. You can invert the pole and use the handle as if it were the spike of the axe, or remove the basket entirely and use the pole right way up. Plant the pole before moving your feet; be sure the pole penetrates the ice layer on each plant, make is as deep as it can go. If you slip, throw your weight on the pole and kick to regain your foot holds. It's better to use just one pole in this situation, put the other one away. Put the wrist strap around your wrist, it might be the thing that keeps you on the slope.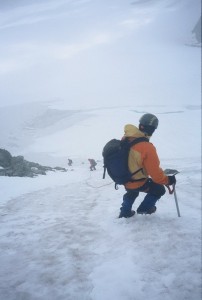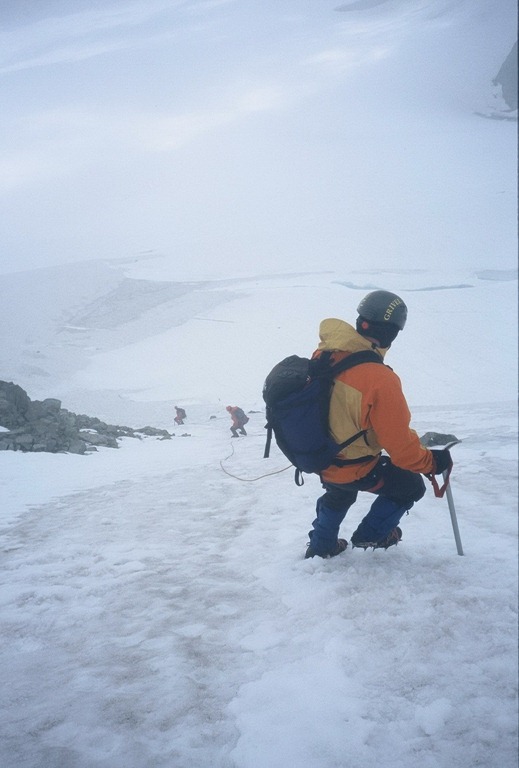 Even better, go and get an ice axe for Christmas, right now! This one will do.
The same advice goes for snow hikers; in fact snowshoers might be well advised to take off the snowshoes altogether for a traverse or descent, but be certain you don't endanger yourself in the fumbling act of removing them. Without the oversized platform distributing your weight, it should be possible, unless you are on hard ice or very hard summer snow, to kick steps through the ice crust. A small platform for each foot step should be enough, as long as you have an ice axe or ski pole to maintain the third point of contact. Don't be impatient; the harder the conditions, the more kicks it will take to make your step.
A good foot platform in hard snow is more secure than the flimsy aluminum cleats on the snowshoes. Go slowly, and test each foot.
Kicking steps is best done with a hard boot. If you are unfortunate enough to be wearing runners, trail shoes, or snow boots, use the ski pole to break the ice crust.
While you're out there kicking steps and being impatient, remember the way the Swiss guides used to do it; using the adze on the ice axe to chop steps for their clients. Conrad Kain chopped thousands of steps up Mount Robson.
"Gentlemen, that's as far as I can take you!"
-C Kain
References:
Mountaineering: The Freedom of the Hills Author: The Mountaineers,Mountaineers Books, September 8, 2010 592 pages, 7 1/2 X 9 , 978-1-59485-137-7