Safe places to Snowshoe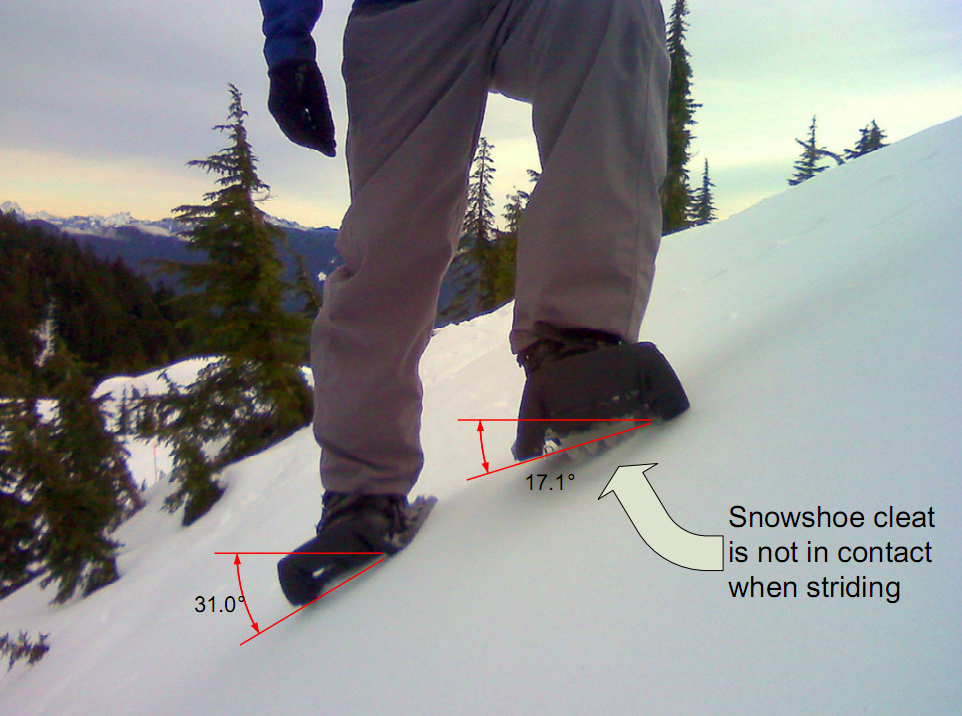 I see by my server logs that some people visiting the blog are searching for a safe place to snowshoe. With all the injury, death and general mayhem that I usually blog about I thought I'd give a few suggestions.
Mount Seymour
Mount Seymour is the best place in the lower mainland, bar none, to snowshoe. First off, it's a provincial park, so there are no trail fees, ever. Second, the parking is free. Third, you're actually allowed to bring your dog (on leash). The trails are well marked, the avalanche hazard is posted, there are tons of people to ask for directions, and if it starts getting dark you can always head for the lights of the ski hill (never go downhill). Finally, there is a cafeteria and restaurant/bar to afterwards, unless you want to make the trip to Deep Cove to visit Honey Doughnuts.
One hike in particular, to Dog Mountain, I highly recommend because it is largely flat, and for the first time snowshoer this can be a very good thing.
Cypress Mountain
Did you know there is no mountain named Cypress in this area? It's all a marketing ploy of the ski area. More properly named Cypress Bowl, and defined as the area between Hollyburn, Strachan and Black mountains, this is a very busy and very popular destination for all sorts of winter sports. Recently the site of the Vancouver 2010 Olympics, the area has a large ski operation, a cross country ski area, and paid snowshoe trails.
However, Cypress Bowl was originally, and still is a provincial park before it was partially destroyed by the current ski operations, and for this the residents and former backcountry users of the area will never forgive the decision makers of the day. Even now, there is a large amount of animosity toward the operation, since they (unlike Mount Seymour) place barriers to access in the Provincial Park. You must get a backcountry pass from the ticket booth (it's free) to access the trails that start in the alpine ski area, which is a hassle.
However, if you head over to the Nordic area, there are no barriers to access, and dogs are also allowed on leash. There is no flat hike, but the trip to the top of Hollyburn is easily done.
Grouse Mountain
I only mention Grouse Mountain because they maintain well marked snowshoe trails. There is no legal or free way to get to the top of grouse, and you have to pay a trail fee. None of the terrain near the mountain is recommended, period.
I hesitate to recommend this area, as it is a traditional backcountry ski area and most of us (skiers) would prefer powder than compacted snowshoe trails for the trip out of this area. However, it is safe, and fun to do this hike. The most dangerous part of this trip is driving to the parking lot, as the road is a narrow, icy, unpaved, and not ploughed regularly. Almost every local has had an epic getting their car up, down or back on this road, don't underestimate it.
However, once at the top, the route is well marked, the avalanche hazard from the parking lot to the Red Heather area is safe and easy, and there is a hut with a wood stove and propane elements for you to cook and rewarm yourself. Dogs are NOT allowed, and I do not advise going anywhere beyond the Red Heather area without avalanche training and equipment.
This area can get an absolutely huge amount of snow. Depending on conditions you may need to break trail in both directions. The parking costs money, so bring cash.  Parking lots are now free. The avalanche hazard is posted at the trailhead and the hut, and there are regular trips by Park Wardens.
Burke Mountain
This area is not well known to anyone but locals, but it is one of the safer trips if you remain on the main road to the summit area. This is not a marked trail, but since there are cabins in the park, and snowmobile access is allowed, this road is often easy to walk or ski on. The snowshoe access is from the top of Coast Meridian Road in Coquitlam; turn right on Harper road, and follow it to the gate near the Fish and Game Club (shooting range).
As I mentioned for Mount Seymour, never head downhill if you are lost in this area; all sides of Burk Mountain (and just about any mountain on the coast) are steep, but on Burke the east side is especially treacherous. If you stay on the main road and hike to the summit area you'll be at the site of an old ski operation. You can still see the clear cuts for the main run. There used to be a lodge (it burned down) and in the summer you can still see the concrete foundation.
You didn't hear this from me, but although this is a provincial park, there is almost never a warden nearby. Take your dog, and if he or she is off leash your risk of getting caught is almost zero. Watch out for snowmobiles.
Epilogue
Read my disclaimer. Any advice on this page is not a substitute for common sense. Although I've recommended some places to go, note that I have witnessed lost and deceased people in all of these places; they are "safe" providing you act in a reasonable manner, check the avalanche and weather forecast, and make smart decisions, such as not going for a hike just because it;s the only day in the week you can fit it in.
Update
This article was originally written in 2011, and has had a minor edit and update in 2015. All facts were correct to the best of my knowledge at the time of writing and editing.