Are we rescuing people too soon?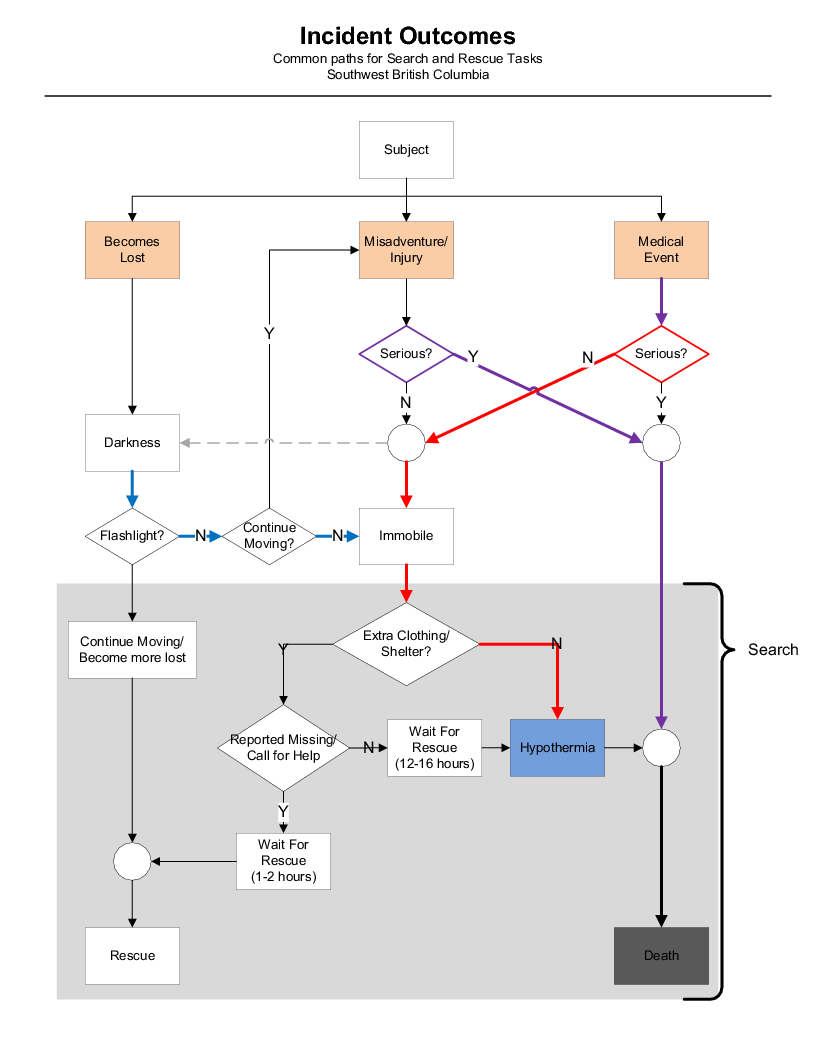 I had a conversation with another SAR member the other day and he mentioned something interesting. He referred to a policy known euphemistically as "the first night's free" – commonly used in areas that get a lot of SAR calls that are very similar. I'd name the individual SAR teams that have this policy but it's not important.
The idea is this; if you get lost and call for help, the SAR team will instruct you to hunker down, and wait until the morning when they will send someone to come and get you. That's it.
Now I know I called this a policy, but it's a bit more than that – there is a decision making process. You evaluate the individual's preparedness, you take into account the weather, their health (if they have any medical conditions), and if they are injured; then you make the decision. Some of these factors will change the one night free policy and you'll launch a rescue, but for most people you just tell them to stay put.
SAR teams that have this policy are typically near a resort of some sort, usually a ski area, that generates a lot of similar calls. Often it's for people who go missing in the same place, and end up in a certain location.
Here's the important part. Nobody is dying from having spent that night out.
Vulnerabilities
Of course for every example there's a counter example. In my personal experience I know of two people my team rescued this year who would definitely not have survived the night. They were poorly dressed, and it was very cold. I also know of several examples of incidents in the area near Metro Vancouver that resulted in the person dying in a single night.
Part of the issue is this – if you don't have cell phone contact with the subject you are missing a very important piece of the puzzle: their mental state. In many of the examples where people die in the first night, they attempt to continue travelling in the dark. As I wrote when I first started this blog, continuing to travel in the dark puts you on the wrong side of the following flow chart (from 2010). Moving in the dark usually leads to injury, immobility and death – and there are many examples, all of them too grim for me to relate now.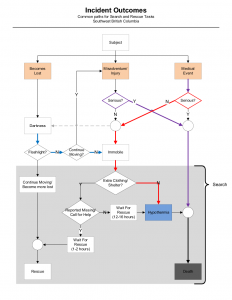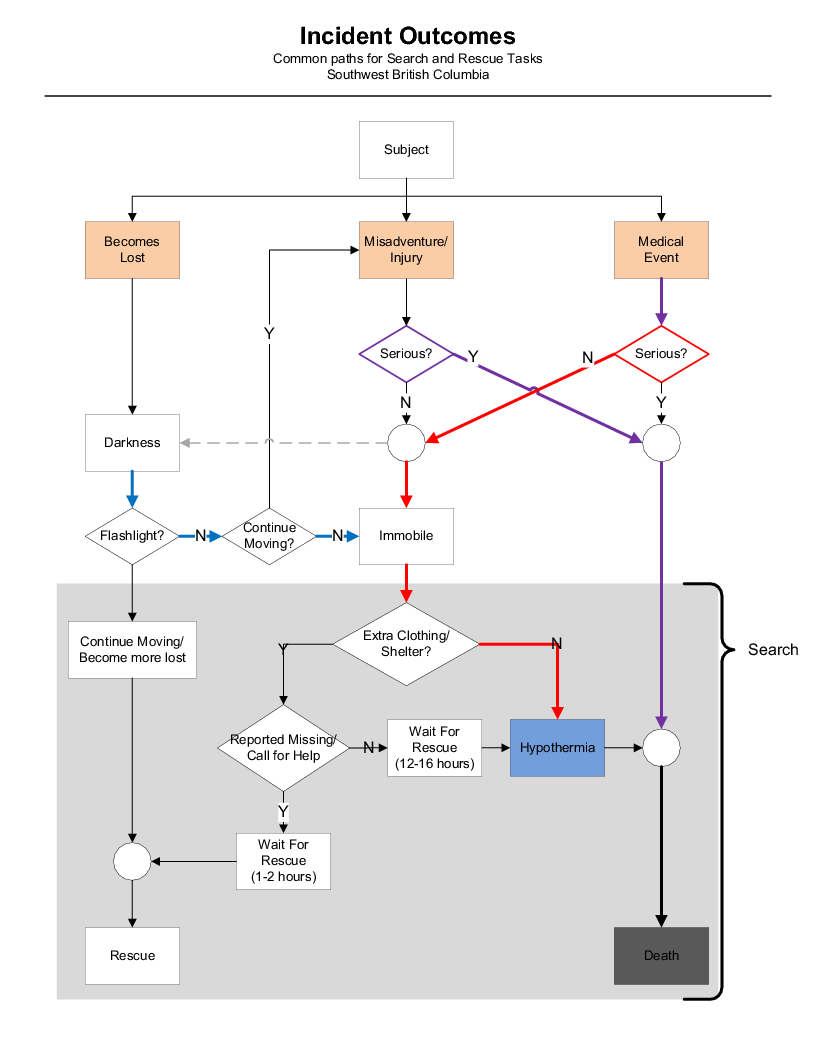 Note that I haven't updated the flowchart since 2010, but for the "first night free" scenario, we would add 5-6 hours to the Wait for Rescue box. So the consideration for the SAR member becomes the following: Does this lost person have the wherewithal to survive for the next 5-6 hours?
Safety First
The primary, and I mean the very first consideration for every SAR team before sending a single person into the field is safety. Is it safe to send my people out? Is it safe to have them walk around in the dark for 5-6 hours? It is safe to have them rappel down a cliff in the middle of the night? Is it, perhaps, safer to have them do these same things in the daylight?
We weigh that safety against the possibility of harm to the subject, and therein lies the problem. We should not be moving the line on safety for any reason whatsoever – it is irresponsible to risk the well being of the rescuers in this scenario.
In so many instances I've seen teams of people hiking in to find a lost hiker who is describing exactly where they are on a trail. Sure, they're cold. Some of them are a little scared. But they are not in danger. The team takes hours to walk to their location, and then either waits with them until sunrise, or walks them out at night.
Ultimately, if we evaluate that the risk of death from an overnight stay in the bush is little to non-existent, then perhaps the SAR members should stay at home till first light. There's no point risking even minor injury when it's just a lost person with no injuries.