GPS Track as log book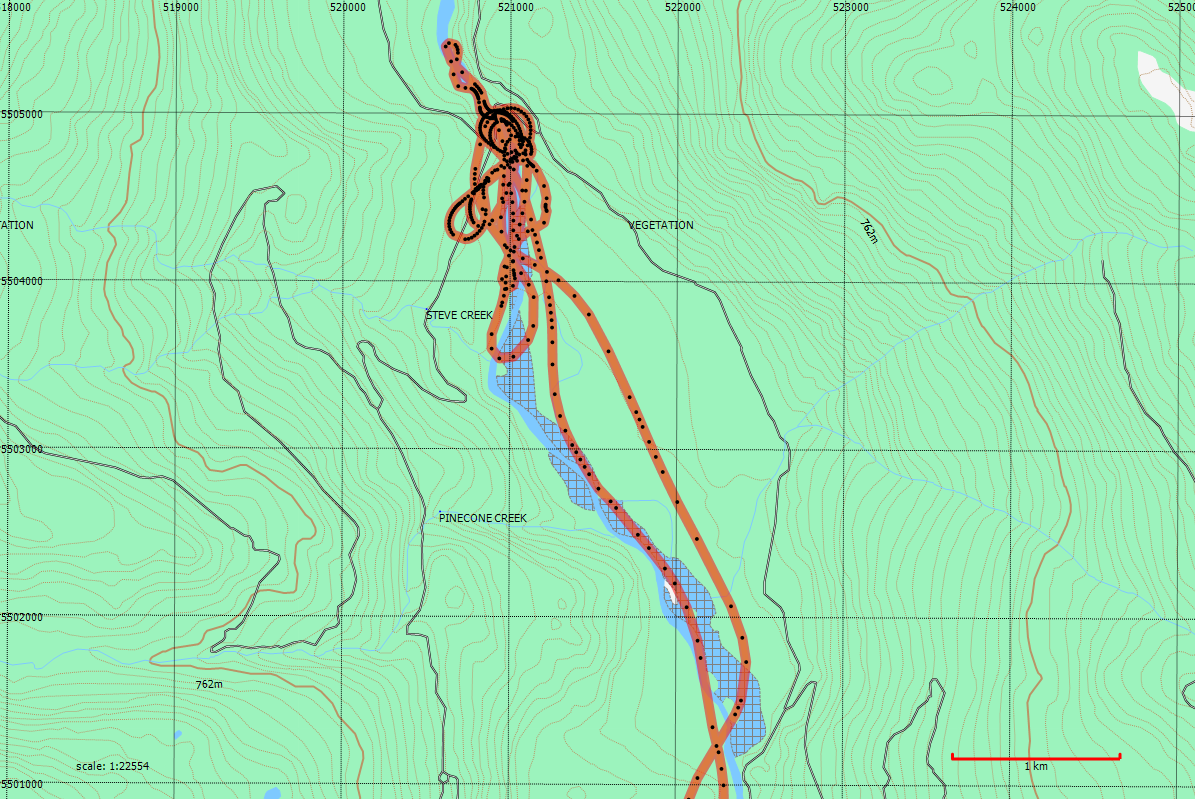 I was on a search most of the day Friday in the Pitt Lake area.
Searches in this area are a problem because of transportation and communications issues. If someone gets lost or hurt at the north end of the lake, it takes time to get there, there's no cell phone coverage, satellite phone coverage is very poor, and radio coms are impossible without a repeater.
Most of these problems are solved by using a helicopter, which is where I found myself around 9:30am Friday morning (the soonest we could get a machine) heading up the lake with a Police Dog Handler, his dog, and another SAR member with the task to insert the handler, and then put up our portable radio repeater.
SAR members had been searching in the area since the previous evening, having been transported up the lake by boat (35 minutes), and to the PLS (Point Last Seen) by car (20 minutes). To contrast, the flight by helicopter is about 15 minutes.
While this might seem fast, the helicopter can only carry about 4 people and the pilot, and there's additional time necessary on the first pass into an area to look for a secure place to land. To move people into the field faster we drive them up lake in boats, and the plan was for the helicopter to meet them at the log sort at the north end of the lake.
So the action goes like this;
* drop SAR member to take down repeater
* aerial reconnaissance of Pitt River and Hot Springs
* drop off Dog handler and dog
* return to pick up SAR members we didn't know needed to come out
* return to log sort to drop off 2 SAR members, and pick up SAR member with repeater
* scout location for repeater, drop off SAR member to set it up
* return to log sort and pick up 3 swift water members
* transport swift water team to PLS
It wasn't until 10:30 that we could drop off the SAR member to set up the repeater, and 10:45 until it was active. It was 10:50 by the time the first new SAR team was in the area over the PLS.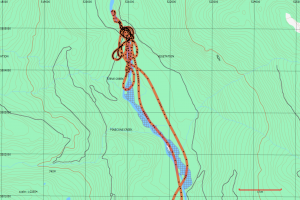 Lesson 1: order a second helicopter for operations on the north end of Pitt Lake.
So while all this action is going on, I'm in the passenger seat making decisions on where to go next and adapting the plan to changing needs regarding moving personnel and equipment. This basically means I'm writing notes. For instance, I need to remember where we dropped off the SAR member to set up the repeater – he is alone on the top of a mountain. It's a clear day, and he has good communications with Command and a pack full of survival gear, but we'd be considered negligent if we didn't log this information.
Lesson 2: pants with a pocket big enough for a notepad and pens, and accessible while in the seated position are essential for a SAR manager or SAR Team leader.
One of the lesser known skills of a SAR member is being able to take notes, photos and other stuff while in a helicopter. It's a good thing if you're not prone to airsickness (I'm not).
The notes contain the basics, the date and the time of an event such as picking up someone or dropping them off, but they don't always contain the location; but that's where the GPS comes in.
Lesson 3: Always have your GPS recording your track.
Recording a GPS track can be one of the most useful things you do to log your part in a SAR task. The track records the date and time with every track point; a date and time that is derived from the atomic clock in an orbiting satellite so it's always correct. Referring to the track later, you can always tell when the helicopter has landed by it's altitude and speed going to zero.
If you have the time and inclination, you can mark a waypoint. On a Garmin GPS the default name of a waypoint is a number so all you need to do is record the number next to an event in your notebook and you have the date, time and location of the event. If you have more time you can rename the waypoint, but I find this to be a laborious process and most of the time not work the effort if you have a notepad.
In the case of this search I had reason to go back through my notebook and the accompanying GPS tracks in order to figure out the order of events in relation to an incident that occurred during the task. The GPS track proved extremely useful to tell me the exact time and location of various events.
This technique of maintaining a track log for each SAR member is now standard for most teams in SouthWest BC.