Comparing SAR Funding in BC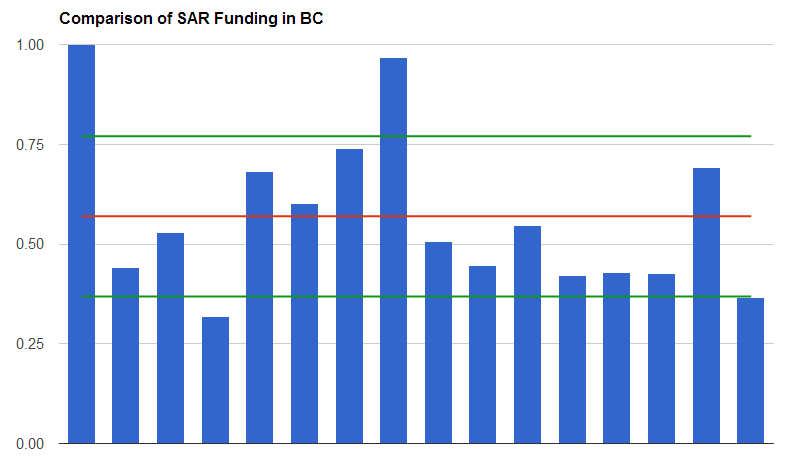 I struggled for a while before deciding to write this post.

The purpose of this post is to illustrate that there is a disparity in SAR funding across teams in BC. This is not intended to show that SAR does not need or deserve your support as it is my opinion that SAR is greatly underfunded. For more on this see the end of the post.
Note updated chart with more recent numbers (analysis stays the same).
One of the areas that could be improved for Ground Search and Rescue in BC is the funding model.
Currently each SAR team is responsible for its own fund raising. Each team can have a variety of different funding sources. Some teams are fortunate to have the support of their communities for buildings, trucks, and perhaps even some communications and a yearly grant, funded through the community tax base. Other teams get no such long term stable funding — in fact most teams do not get long term, multi year, stable sources of funding, and so they are not able to do long term planning.
Sources of funding include individual donations, funds raised through various drives and events, regional district grants, grants from community casino funds, and grants from the BC Gaming commission. The BC Search and Rescue Association applies for grants for equipment and training and disburses these to the SAR community as well. EMBC has a certain amount of funds allocated toward SAR training. There are also donations of equipment and other resources that SAR groups can make use of — discounts for charitable organizations, and "Pro Deals" for equipment.
Fund raising can be a struggle for a SAR group, eating into the time that could be spend training and operating the team.
However, another issue that has always bothered me is that there is no body that oversees funds and grants and allocates resources to where they are needed most. It's this issue that I find particularly bothersome. I've always had the feeling that there is a disparity between the resources a SAR group needs, and the resources they receive, and this results in a different level of service depending on where you are in the province, as certain teams make do with less.
How to test this theory?
Most SAR groups in BC are registered charitable organizations and as such their tax returns are public documents (you can search them here).
Based on my previous post on call volumes, I took the top 16 busiest SAR groups in BC, and downloaded their tax returns over a three year period and averaged them to account for variations in funding year over year. I divided the team's reported annual revenue by the average number of calls the team did over a 10 year period.
Then I converted the values into a percentage of the team with the highest ratio. This has the effect of expressing the cost per rescue for a team as a percent, which is a valid way to compare across the teams, and has the added value of making the chart anonymous (I removed the team names from the chart).
I would have preferred to have compared the 10 year average revenue with the 10 year average call volume, but the CRA web site does not have 10 years of tax returns on file.
The bar chart below compares the cost per rescue of the top 16 SAR groups in BC by call volume.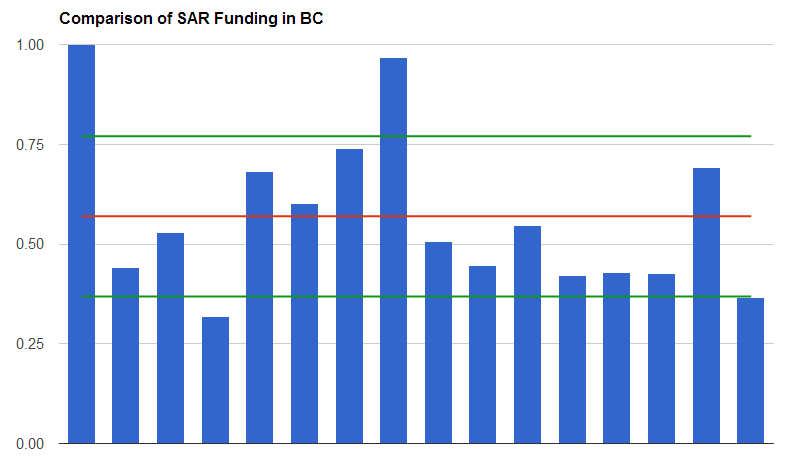 Analysis
The chart compares the cost per rescue of the top 16 SAR teams by call volume in BC. In total there are 80 SAR teams in BC. The red line is the average (53), and the green lines represent the standard deviation (20) which is quite high.
The first way to interpret this chart is that the bars express the cost-per-rescue for each SAR team in unitless values (percentage is a ratio and has no units). You can see that some teams have a much higher cost per rescue than others.
Another way to interpret the bars is this; the shortest bar is 29%, the largest bar is 100%. The small bar represents a SAR group whose funding per incident is 29% of the largest team, or lower than a third.
The disparity is unsettling to me.
In an ideal world I would hope that this chart would show the same cost per rescue for any team in BC, indicating that each team receives funding roughly on the same order as their call volume. The standard deviation indicates that the majority of teams in this sample are within 20% of the average. This is quite a large spread — consider the last time you overspent on something by 20%, or saved 20% when you bought something.
This comparison is only 16 SAR teams — and those are the busiest Ground SAR groups in BC! As I mentioned in my last post, these teams are dominated by the largest population centres in BC, and large call volumes which give them exposure in local newspapers, and the ability to raise funds through donations, and justifications for large grants. Imagine the disparity between the 10 busiest and 10 least busy SAR groups (possible in another post).
However, without a central body to evaluate the merit of a grant application or to monitor how "rich" a team is, some groups are clearly falling behind, even in the top 16.
What to do about it?
For full disclosure, my own SAR team is just above the median in this chart at 60 so we are doing OK in comparison — with the top team having just 40% more funding per call than us.
What am I advocating?
I believe most Ground SAR groups are under funded in BC and that the struggle to fund-raise takes time and energy away from the primary job of rescuing people.
I believe that Ground SAR in BC deserve simple, stable, long term funding that will allow SAR groups to plan for multi-year projects to prevent death and injury, and to build skills where they are needed.
I believe that Ground SAR in BC needs an oversight body that can help make the distribution of resources equitable so that funding goes where it is needed, not where it is popular or visible.
I think that if you are considering supporting your local SAR team you should continue to do so because they need it. I have deliberately left this analysis anonymous to avoid the impression of some teams being less deserving than others. Support your local team, but understand that there are 80 teams in BC and not all of them are funded to the same extent.
For any provincial organizations, if you are interested in supporting the mission of Ground SAR in British Columbia, I would consider donating to the BC Search and Rescue Association as the only body in BC that represents the 80 SAR EMBC-recognized SAR groups, and the thousands of volunteers who serve.